Silicon Valley company, Verkada, taps into Ontario Tech's impressive student talent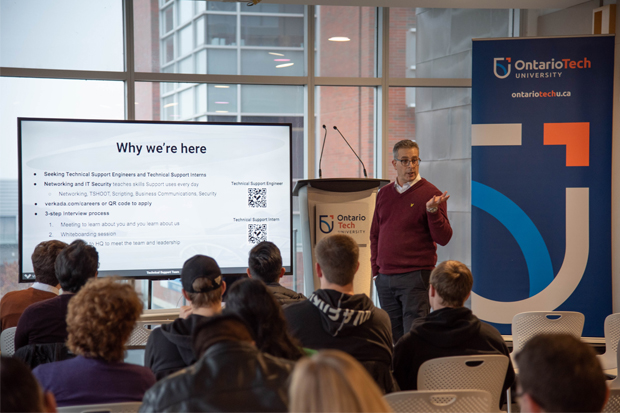 The San Mateo based enterprise security system leader, Verkada, traveled north to Ontario Tech to recruit students from the high-demand areas of Networking and Information Technology, Engineering, and Computer Science. For them, no distance is too far to travel when looking to find the best university talent to help drive future success.
Verkada's Brandon Davito, Vice-President of Product and Operations, and Ethan Cuttler, Technical Support Manager spoke to students about the drive, innovative thinking, and collaborative approach Verkada has observed in Ontario Tech interns like Reese Daniel. During the session, students got hands-on experience with Verkada's cutting-edge cloud-based AI-enabled security hardware.
Since visiting our campus in November 2019, Verkada has hired a number of Ontario Tech's in-demand Networking and IT grads and continues to recruit to meet the company's rapid growth. If you are interested in hiring current students for internships and coops or are interested in hiring recent graduates please contact the Career Readiness Staff.